Hey guys!! Today I have a tyndale review,,, unfortunately this book took me longer to read and therefore, longer to review...sorry about that! :) Maybe this will be worth it:
Former registered nurse and peri-natal loss counselor, Jan Watson won the Jerry B. Jenkins Christian Writers Guild First Novel Contest in 2004 with Troublesome Creek. Written with a dollop of romance and a smidgen of suspense, Jan's award winning historical novels, are uniquely set in the Appalachian Mountains.
Jan was recently voted 2012 Best Kentucky Author by the readers of Kentucky Living Magazine.
A voracious reader since childhood Jan recalls "when all those squiggles on the page made me want to learn what Dick and Jane did next." Although she has always loved books, she had no intent to write one of her own. . .until one day she recalled a story told to her by her grandmother.
As a child, Jan often visited her grandparents in the mountains of eastern Kentucky. One summer day, as she and her grandmother sat in the porch swing breaking beans, her granny told her the true story of the terrible flash flooding of Frozen Creek, and of the tiny baby who was swept away never to be seen again. Jan carried the story in her heart for fifty years before she decided to save that baby, if only fictionally. This became the basis for a series of books: Troublesome Creek, Willow Springs, and Torrent Falls and of a spin off, Sweetwater Run.
In all her books, Watson artfully draws on the folklore and culture of times long past to create colorful characters living their faith in a world that offers comfort and peril in equal measure.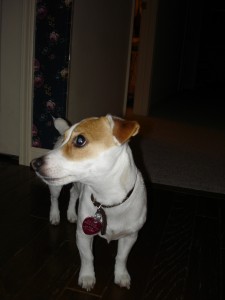 Jan's latest novel, Skip Rock Shallows, follows the story of Lilly (Copper's daughter) who is featured in book 5, Still House Pond. It is sure to be a satisfying read. Jan's publisher is Tyndale House.
Watson lives in Lexington, Ky. Most mornings you'll find her at the keyboard with her Jack Russell terrier, Maggie, on a pillow in her lap. Her work day lasts as long as Maggie will allow.
When Jan isn't writing or entertaining Maggie, she enjoys reading, taking long walks, and collecting out of print medical books, which she reads "like other women read cookbooks".
*Book Description*
Mazy Pelfrey is working at secretarial school...but her buisness skills are not the only thing being worked on. While back at home a sweet friend is waiting for her, here she's met a wonderful man, Loyal Chambers, promising a wonderful romance. Confused, Mazy strikes up friendship with two very different groups. Mazy know she will learn a lot by the time she returns, if she returns...but that isn't all she'll learn. Will her heart lead her home? And where will home be?
Chanis Clay has been anxiously building his home and awaiting the return of Mazy...hopefully to become his wife. Being the youngest sheriff in the town's history, Channis has a ton of responsibilities and expectations. Can he live up to the town's standards and step up to the plate? And, if he can, will Mazy be by his side?
A lot of people say that Jan Watson has fabulous characters, that she brings them to life...and they would be absolutely right!! Jan did a fabulous job of making her characters jump off the page. She also has a fabulous cover and gift for writing. Loved reading it!
Okay guys. This is not TOO much of an issue...it's fixable and forgivable. The only thing that was hard about this book was that Jan used too many characters. Sure, authors need lots of characters to bring their stories to life. That wasn't her problem. The issue is that she delved too deeply into the characters lives for me. Too many main characters are confusing for some people. I just felt the need to pre-warn you. ;)
I give Buttermilk Sky...
3 1/2 stars.
*Why my rating is what it is*
My rating is 3 1/2 stars because of the main characters issue and also because the story was a little slow. However, if you are like me, you shouldn't let that stop you. Buttermilk Sky is a good book, the author just has a different, unique style to her writing. Nothing wrong with that!
*Where to buy it*
DeeperShopping
Amazon
Christian Book
Barnes & Noble
Thanks to
Tyndale publishing
for another fabulous book!!
Blessings,
Nicki